Tunnel Detection & Wide Area Surface Tracking For Security Applications
Dectecting Tunnelling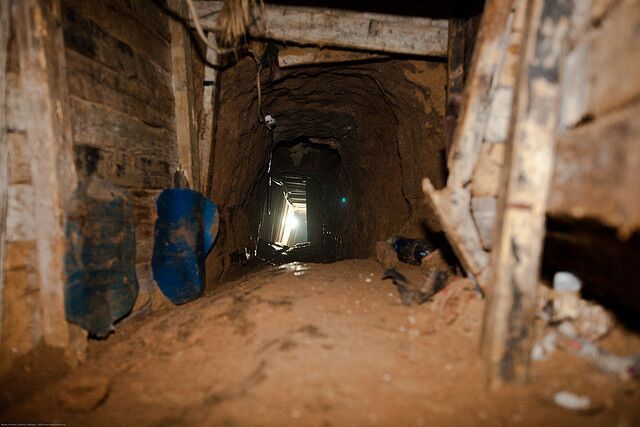 Perimeter Intrusion
Although the building of tunnels for illicit purposes has happened for centuries, it has become a major security issue in the 21st century. Frequently, the risk or threat is to a significant commercial or politically sensitive target.
Tunnels are being built in a range of situations, including the smuggling of arms, drugs, terrorists and illegal immigrants. As shown by the high profile escape earlier this year of some 500 Taliban commanders from a prison in Afghanistan, the use of tunnels to aid prison escapes is not just the stuff of Hollywood films.
Existing technology might be able to locate intruders, if they tunnel just a few feet underground, but tunnels are becoming deeper and more sophisticated, often equipped with mechanical conveyance systems, air handling systems and electric lighting. Typically, it is such tunnels which pose the greatest security threat.
SureWave Technology's Tunnelling Alert System (TAS2) provides law enforcement agencies and the military with a revolutionary new tool to combat this daily threat.  TAS2 will detect intruders tunnelling up to a depth of 1,000 feet underground, and across a surface distance of up to 1,500 feet from the system's sensors.
The capability of TAS2 to detect tunnelling is predominantly unaffected by the surrounding noise of traffic, construction, aircraft etc.  The system's highly sophisticated software provides real time monitoring of the tunnelling with precise three dimensional co-ordinates.
TAS2 is passive and, therefore, undetectable.  It will transmit the information to a command and control centre, and connect to cameras or other alarm/security devices.
This breakthrough in microseismic technology is ready for deployment today.  Those building illicit tunnels are now detectable.  Tunnels are no longer a place to hide.
SureWave Technology's Perimeter Intrusion Detection System, AAS2, uses unique wide area microseismic technology to provide a revolutionary system for the security industry.
Whether it is in the detection of persons or vehicles approaching a sensitive site, AAS2 provides a unique, real time solution which is the perfect tool to enhance surveillance and security.
Real time tracking of surface activity is provided either locally or to a remote commander control centre. Integration to intelligent camera systems is provided.
Either operating alone or supplementing existing security systems, AAS2, offers full integration into camera or other security networks.
Since each security site or situation may have unique features, Surewave Technology offers a custom built solution to suit your exact requirements.
Contact us with your site specification for expert guidance and advice.
LITERATURE
Contact SureWave